I've been knitting christmas gifts.... mostly for family at the moment. All the girls (cousins, aunts, etc.) are getting sophie felted purses. But that left me with nothing for the boys. Thankfully my Stitch n Bitch Nation book showed up the other day. Now all the boys are getting the Basic Cable hat: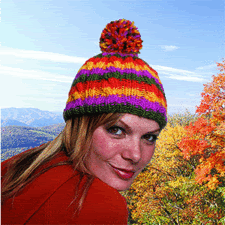 of course they won't be bright like this and I'll leave the pom pom off the top :-)
The one I'm working on now is a dark and light gray tweed (cascade 220 yarn). I'll post a photo when I finish up. It's about half way done and is really turning out to be a nice hat (And a quick knit as well). If anyone else is making this hat... I read on craftster that the hat comes out a bit too short, so add a cable repeat or 2.