On Saturday I went to the most tempting (fiber) place on earth... the Santa Clara Convention Center aka Stitches West. And I bought a few things.... Mostly fiber as I have discovered the fun of spinning my own yarn now as well:
The fiber load: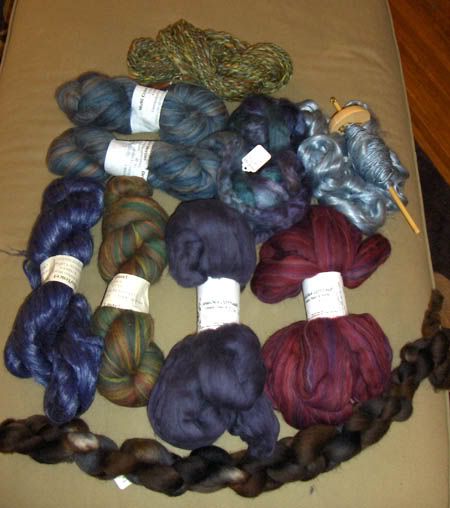 merino, tencel, wensleydale, blue faced leicester etc... Some came from
Lisa Souza
who hand dyes yarns and fibers... loved her booth.
this is the wensleydale from above in "wild things"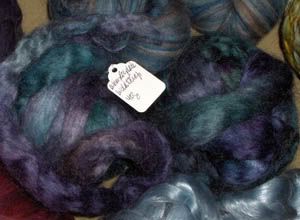 And here is my first completed 2 ply yarn in merino: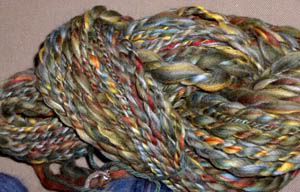 Also went to
Tess
yarn booth and got some merino/silk (on left) and some angora/wool (on right):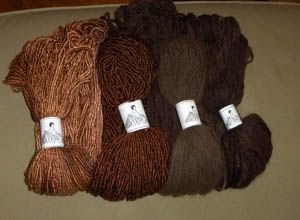 Habu textiles
was so cool... they have really different yarns made from things like paper, silk, or bamboo. I picked up some bamboo in 2 colors. Figure I have enough of each for a lacy scarf: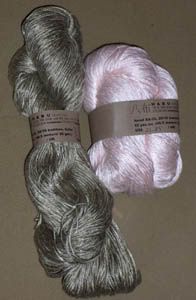 And how could I pass up Webs? Got some of their
stockbridge
in kiwi and denim for some wrist warmers and
longmeadow
for a sweater (both yarns feel like heaven):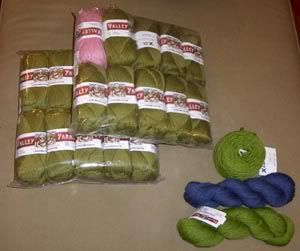 And I even finished off a couple projects:
My
sesame
sweater is finally done... buttons on and sleaves sewn in: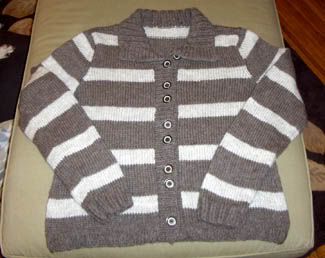 and Letter Have It from Stitch n Bitch Nation for my friend finally has a zipper and has been given away. (she loved it)