I started a sweater using this cable: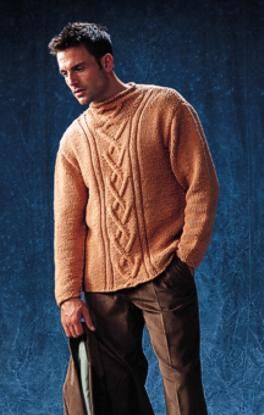 with some
Berroco Uxbridge Tweed
that I picked up from Elann.com awhile back in pumpkin spice:

I've been wanting to start on this sweater and swatched months ago... before the Christmas knitting madness. I feel a bit guilty as I'm not done with a baby blanket that I should really work on... but I'll get that done as well. Oh yeah... I have one more scarf to get done too. It'll all get done eventually :-)
And I finished my super chunky orange scarf. It's
Wool Ease
Thick and Quick in pumpkin (hmmm lots of pumpkin yarn at the moment):

I'm still without the ability to download pictures from my digital camera.... but the pattern stitch I used was the broken rib.
Cast on a multiple of 4 stitches +1 (I did 17 stitches, this yarn was bulky)
Row 1 K2 P2
Row 2 K2 P2
Someday I'll get a photo posted. This was my first time using craft store yarn... this stuff was actually really nice to work with. It's soft and cushy :-)
Having this week off has been great... I had so much time to knit and spend time with my boyfriend. Too bad I'm not independently wealthy... back to work Monday.