This is the back and both sleeves of my Under the Hoodie from Stitch n Bitch. Just finished the sleeves last night.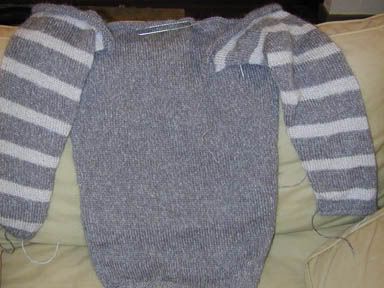 This project has been on needles for months... it's so boring to knit. But the Kid Classic yarn is really nice to work with and makes a very cozy fabric. So glad I found some on ebay ;). Once I finish this one I'm sure it'll be a favorite to wear... just not a favorite to knit.
I didn't keep the stripe pattern the same as the pattern at all. The pattern calls for a large 2 tone stripe across the chest and the arms match the color of the stripe. This one has the stripe arms (obviously) and I'm going to put the same stripes on the hood and one stripe on the front pocket. I'm still in the ribbing for the front but hope to finish this one before the end of October.