Here's the progress on my Knockaround sweater from Weekend Knitting: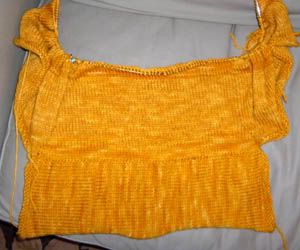 The construction is a bit odd (it is a Teva design afterall) The lower part was knit in a strip and the top part was picked up and knit... adding more stitches along the way to create the sleeves. So the sleeves are knit at the same time.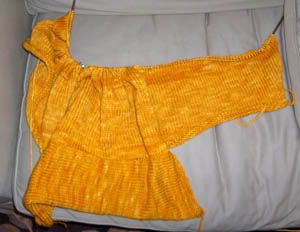 The knitting is a bit slow going because each row is so long... but I'm to the point where I need to knit the collar... So about half way there. The handpaintedyarn.com 6 ply merino I'm using is awesome. Love the color variation and the softness of the yarn. If I weren't doing so well with my yarn diet I'd be buying more of it right now :)
And here's my first modified Cigar glove. I decided to just go fingerless rather than knit the last two full fingers. That way these will make great photography gloves. I can do everything (load film, focus, grip the camera) without having to take my gloves off.
That should come in handy next month when we go to Yosemite (for our 10 year anniversary!!). I'm looking forward to the trip. Haven't been out there in years.