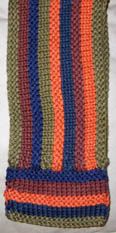 Bright Stripes
Yarn: Jo Shark Silkroad Ultra
Color: elm (olive), tamarind (burgandy), neptune (dark blue), salsa (orange), kliker (another dark blue)
Pattern: Modified from Bright Stripes in Scarf Style
Needles: Addi Circs #10.5
YarnQuantity: about 250 yards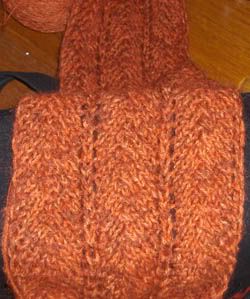 Lace and Agate scarf
Yarn: Rowan Kidsilk Haze, Knit Picks Alpaca Cloud, Elsabeth Lavold Silky Wool
Color: marmalade, autumn, burnt orange
Pattern:
Lace and Agate scarf
Needles: Brittney Straight #10.5
Yarn Quantity: about 180 yards of each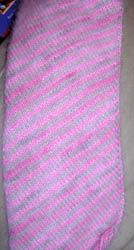 Bias stockinette stitch scarf (not done yet) in Angora/wool blend form Tess yarns. It's so cozy.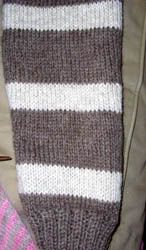 Arm from my sesame sweater. The whole body and both arms are done. Now I just have to sew it together and knit the button bands and collar.

Started a cardi in Rowan Polar using the irregular rib pattern from Loop D Loop and the Handy Book of sweater patterns for the actual sweater. The yarn is not as purple as it photographs... and is so nice and soft. Will make a great bulky cardigan.