So I've been on the hunt for a great dog for us (fiance and I). And I think we met her today. Her name is shasta and she's a 5 year old Pit Bull / Boxer mix. She is currently in a foster home near us and we went and played with her this afternoon. She is a really sweet girl who loves tummy rubs. In the house with her are another dog and 2 cats. One of the cat likes to snuggle on her head (we saw it happen) which is awesome because we have 3 cats and just can't have a dog that doesn't love cats. So we're working on getting our house set up so she can wander in and out through a dog door into the back yard.
There is only one problem. His name is Arnold and he is a 3 year old Pit at the Berkeley Animal Shelter who I met yesterday while volunteering there. The poor guy has been there for a year. And we took him outside in their play area and hung out and played with him. He's super sweet and sane for having been locked up for a year. He's a bit more playful than Shasta and they say he's good with cats but we'd have to really test that. I just want them both... such sweet dogs. It's just hard to decide if we want a really playful active guy or a super sweet mellow girl who is for sure really great with cats. If i just had a farm I'd take them all home with me.
And we're trying to declutter to make room for one of these cuties.... so I'm selling a little bit o yarn:
Skacel Sirenetta
Fibre Content: 60% Cotton/ 40% Acrylic
Made In: ItalyCare: Machine Wash/ Dry Flat
Gauge: 18 st/4 inches 4.0-5.0 mm (US 6-8)50g (1.75 oz) ball
Yardage: 111 m (121 yards)
I have 9 balls in stonewash grey (color 3)
and 3 balls in seashell pink (color 7)
So all 12 balls for $30 and I'll throw in free shipping. Leave me a comment if interested.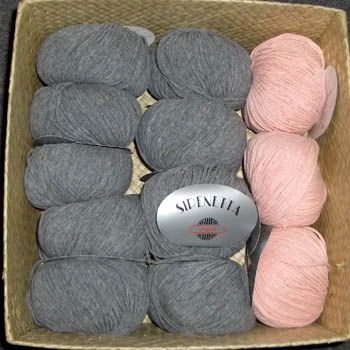 TTFN