For the first 4 or 5 christmas' I was living with my Fiance I went all gung-ho with the decorating. We had a tree and stalkings and a few other christmas odds and ends. Then for the last 5 years I've totally ignored the holiday decorating thing. Been too busy or whatever. But this year I WANTED a tree. So Sunday evening we went out and found a tree lot and picked out a great mid sized tree (it's about 5.5 feet tall). And we also picked up a wreath for the front door (which I love seeing when I come home at night.
So here it is and I also took a couple photos of some of our great ornaments that we have each had since we were kids. I love going through the decorations and seeing all these great old ornaments.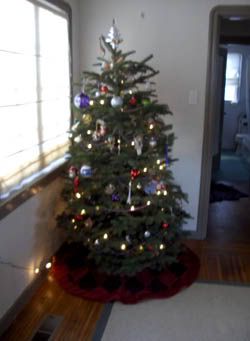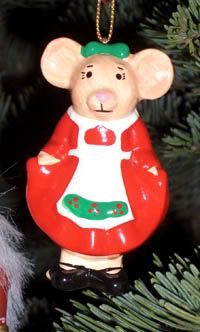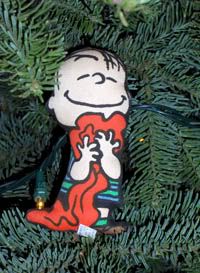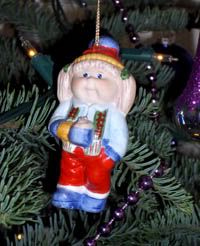 And here is some knitting I've been working on:
My so called scarf
in
100% pure wool
merino (color clay). It's soooooooooooooo soft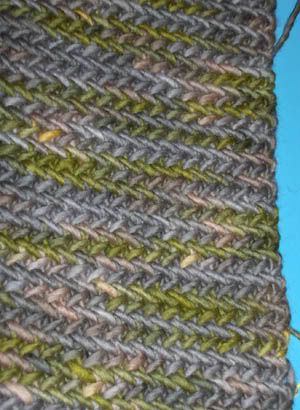 And here is a completed bulky seed stitch scarf made from handpaintedyarn.com super bulky wool (rhodesian):
but this shows the texture a bit better:
And I'm working exclusively on my dad's flame sleeved sweater until it's done. Both sleeves are done up to the armpit and the body is a few inches tall (knit in the round). I really don't enjoy knitting with a deadline so much. It takes a lot of the fun out of it... but hopefully my dad will love it and that'll make it worth the hassle.
And a doggie pic to end with... the Fiance has taken to her quite well and likes to lay in her bed with her :)